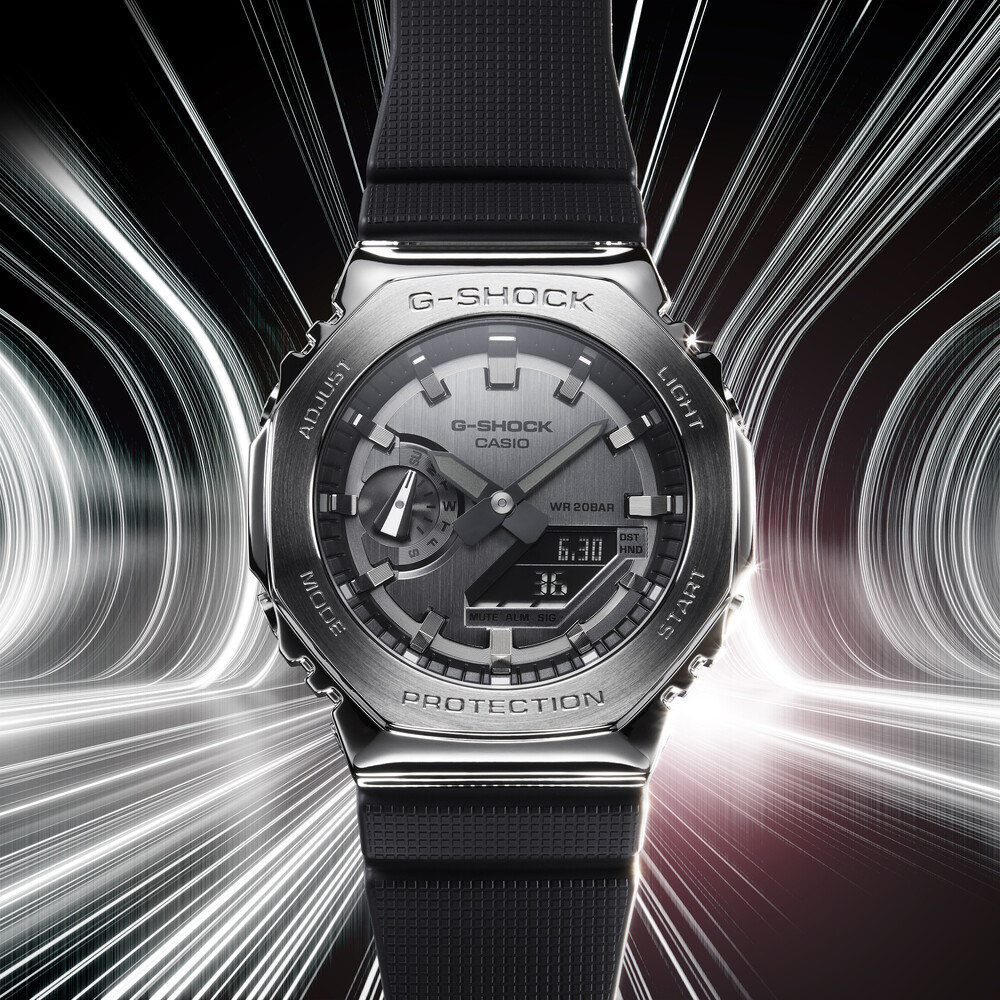 PARA PUBLICACIÓN INMEDIATA:
G-SHOCK UNVEILS ALL-NEW SERIES OF METAL COVERED WATCHES
New GM2100 Series Combines Octagonal Shape with Forged Metal Bezels and Modern Finishes
DOVER, NJ, agosto 19, 2021
— Today,
Casio
unveils the latest addition to its
G-SHOCK
line up of timepieces with the GM2100 series, a collection of watches that feature a metal-clad shock resistant structure with a thin profile. The bezel has the octagonal shape familiar to the original G-SHOCK watch, the DW5000C. The series is available in four unique colorways including the
GM2100-1A
featuring a stainless-steel bezel and black urethane band, the
GM2100N-2A
with a blue IP bezel, with a matching dial and band, the
GM2100B-3A
in a gray IP bezel with a green dial and band, and lastly the
GM2100B-4A
in a gray IP bezel with a black band and red dial.
The unique forged stainless-steel bezel has a concentric hairline finish applied to the top surface and a mirror polish to the sides, giving it a beautiful gleam. Vapor deposition is applied to the dial showcasing hairline and mirror finishes to emphasize a metallic texture while the digital display is positioned to optimize the viewing area for both the analog and digital readout. The urethane band has a box check patterned texture for an added casual touch.
The metal covered shock resistant structure of the GM2100 models are built with protrusions on the inner case to reduce surface contact with the bezel and cushion shocks to the module. The module is housed in a glass fiber reinforced resin case for maximum shock resistance. The bezel itself is precisely crafted through forging, cutting and polishing the stainless-steel bezel to provide a comfortable fit.
In addition, the new models boast G-SHOCK's latest features, such as a light fadeout function on the dial, hand retract function, full auto calendar, full auto Super LED light, and more.
As part of the release G-SHOCK has unveiled an exclusive landing page taking consumers through the features, which can be viewed
HERE
.
Each new timepiece also comes equipped with G-SHOCK's technical features including:
Resistencia al impacto
Resistente al agua a 200 m
Full Auto Double Super LED
5 Alarmas
1/100 Stopwatch (1Hr)
Temporizador de cuenta regresiva (24 h)
Calendario completamente automático
World Time (31TZ, 48 Cities+UTC)
The GM2100-1A will retail for $200, while the GM2100N-2A, GM2100B-3A, and GM2100B-4A will retail for $220. All four models will be available for purchase at the beginning of September at select G-SHOCK retailers, the G-SHOCK Soho Store and
gshock.com
.
# # #
Acerca de G-SHOCK
El reloj G-SHOCK de Casio, resistente a golpes, es sinónimo de dureza, se creó a partir del sueño del desarrollador, el señor Ibe, de "crear un reloj que nunca se rompiera". Más de 200 muestras hechas a mano se crearon y se probaron hasta la destrucción, pero finalmente en 1983, el primer G-SHOCK, ahora icónico, llegó a las tiendas de Japón y comenzó a establecerse como "el reloj más resistente de todos los tiempos". Cada reloj reúne los 7 elementos: resistencia a impactos eléctricos, resistencia a gravedad, resistencia a bajas temperaturas, resistencia a vibraciones, resistencia al agua, resistencia a golpes y dureza. El reloj cuenta con innovaciones y tecnologías de Casio para evitar que sufra golpes directos, lo que incluye componentes internos protegidos con uretano y módulos de cronometraje suspendidos en la estructura del reloj. Since its launch, G-SHOCK has continued to evolve, continuing to support on Mr. Ibe's mantra "never, never give up." www.gshock.com.
Acerca de Casio América, Inc.
Casio América, Inc.; Dover, N.J., es la filial en los EE. UU. de Casio Computer Co., Ltd., Tokyo, Japón, uno de los fabricantes líderes en el mundo de soluciones de equipos comerciales y componentes electrónicos para el consumidor. Fundada en 1957, Casio America, Inc. comercializa calculadoras, teclados, dispositivos de presentación móviles, impresoras de etiquetas y títulos de discos, relojes, cajas registradoras y otros productos electrónicos de consumo. Casio has strived to realize its corporate creed of "creativity and contribution" through the introduction of innovative and imaginative products. Para obtener más información, visite www.casio.com.