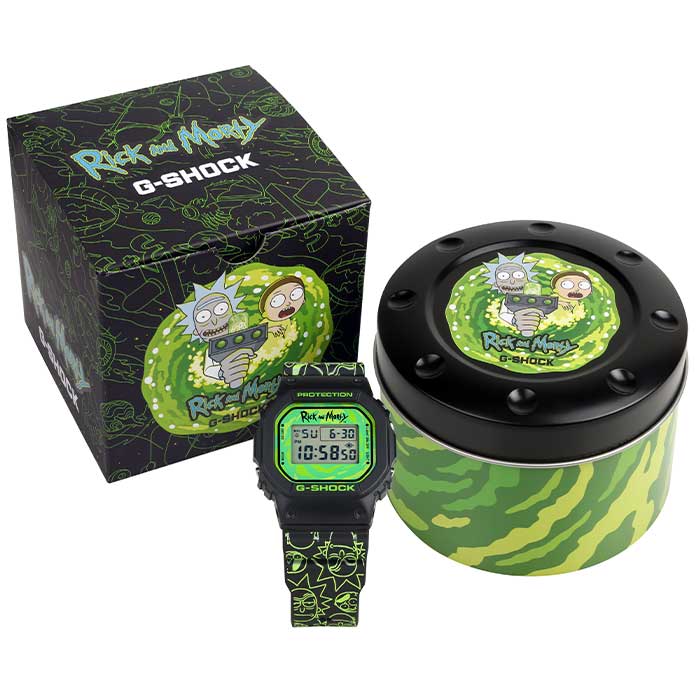 PARA PUBLICACIÓN INMEDIATA:
G-SHOCK COLLABORATES WITH WARNER BROS. CONSUMER PRODUCTS AND ADULT SWIM FOR LIMITED-EDITION "RICK AND MORTY" TIMEPIECE
Eye-Catching Character Illustrations and Custom "Rick and Morty" Themed Packaging Celebrated in G-SHOCK Style
DOVER, NJ, octubre 19, 2021
— Today,
Casio
G-SHOCK
announces a new limited-edition timepiece for its inaugural collaboration with Warner Bros. Consumer Products and Adult Swim, inspired by the hit animated sci-fi series, "Rick and Morty." The
DW5600RM21-1
features a black band with neon drawings of the title characters and includes the "Rick and Morty" logo prominently displayed on the watch face and band loop.
The new G-SHOCK collaborative timepiece utilizes the DW5600's iconic case shape and features custom detailing with nods to 'Rick and Morty', including a bright green and yellow dial that replicates the show's signature green portal. Additionally, the sitcom's logo and drawings of Rick and Morty are engraved on the watch's case back. Finally, the DW5600RM21-1 boasts a custom EL Backlight that features Rick and Morty's faces.
The watch's collectible packaging includes a tin inspired by the bright green portal featured in countless episodes of "Rick and Morty," and a custom box with several "Rick and Morty" themed drawings as well as an image of the titular characters with the show's famous portal gun.
The DW5600 model also boasts staple G-SHOCK functions and capabilities such as a Flash Alert and EL backlight with Afterglow, making the digital display easy-to-read and enabling Rick and Morty's faces to pop-up at any time of day.
DW5600RM21-1 is equipped with G-SHOCK technology including:
Resistencia al impacto
Resistente al agua a 200 m
Retroiluminación EL con incandescencia posterior
Alerta flash
Alarma multifunción
Cronómetro 1/100 segundos
Temporizador de cuenta regresiva
12/24 Hr. Formats
The DW5600RM21-1, which retails for $170, will be available for purchase this October
gshock.com
, the G-SHOCK Soho store and select fashion boutiques.
To coin a phrase from Rick... "And that's the wayyyyyy the news goes."
Seasons 1-4 of "Rick and Morty" are available to stream now on HBO Max.
# # #
About Warner Bros. Consumer Products
Warner Bros. Consumer Products, part of WarnerMedia Global Brands and Experiences, extends the Studio's powerful portfolio of entertainment brands and franchises into the lives of fans around the world. WBCP partners with best-in-class licensees globally on an award-winning range of toys, fashion, home décor, and publishing inspired by franchises and properties such as DC, Wizarding World, Looney Tunes, Hanna-Barbera, HBO, Cartoon Network and Adult Swim. The division's successful global themed entertainment business includes groundbreaking experiences such as The Wizarding World of Harry Potter and Warner Bros. World Abu Dhabi. With innovative global licensing and merchandising programs, retail initiatives, promotional partnerships and themed experiences, WBCP is one of the leading licensing and retail merchandising organizations in the world.
Acerca de G-SHOCK
El reloj G-SHOCK de Casio, resistente a golpes, es sinónimo de dureza, se creó a partir del sueño del desarrollador, el señor Ibe, de "crear un reloj que nunca se rompiera". Más de 200 muestras hechas a mano se crearon y se probaron hasta la destrucción, pero finalmente en 1983, el primer G-SHOCK, ahora icónico, llegó a las tiendas de Japón y comenzó a establecerse como "el reloj más resistente de todos los tiempos". Cada reloj reúne los 7 elementos: resistencia a impactos eléctricos, resistencia a gravedad, resistencia a bajas temperaturas, resistencia a vibraciones, resistencia al agua, resistencia a golpes y dureza. El reloj cuenta con innovaciones y tecnologías de Casio para evitar que sufra golpes directos, lo que incluye componentes internos protegidos con uretano y módulos de cronometraje suspendidos en la estructura del reloj. Since its launch, G-SHOCK has continued to evolve, continuing to support on Mr. Ibe's mantra "never, never give up." www.gshock.com.
Acerca de Casio América, Inc.
Casio América, Inc.; Dover, N.J., es la filial en los EE. UU. de Casio Computer Co., Ltd., Tokyo, Japón, uno de los fabricantes líderes en el mundo de soluciones de equipos comerciales y componentes electrónicos para el consumidor. Fundada en 1957, Casio America, Inc. comercializa calculadoras, teclados, dispositivos de presentación móviles, impresoras de etiquetas y títulos de discos, relojes, cajas registradoras y otros productos electrónicos de consumo. Casio has strived to realize its corporate creed of "creativity and contribution" through the introduction of innovative and imaginative products. Para obtener más información, visite www.casio.com.