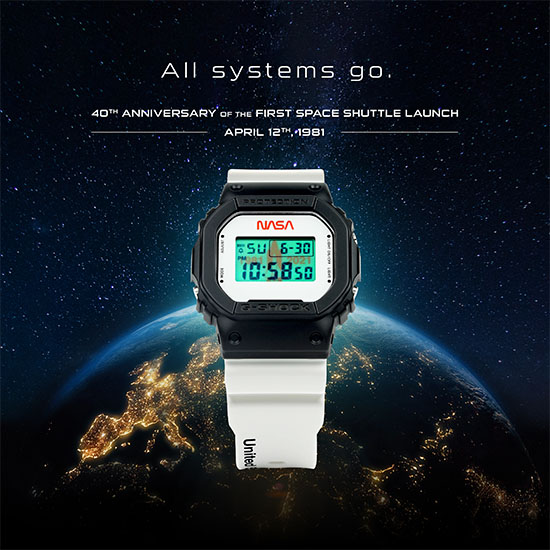 PARA PUBLICACIÓN INMEDIATA:
CASIO UNVEILS NEW, LIMITED-EDITION G-SHOCK TIMEPIECE THAT CELEBRATES THE 40TH ANNIVERSARY OF FIRST SPACE SHUTTLE LAUNCH
G-SHOCK Announces Commemorative DW5600 Model with Customized Case Back and Packaging
DOVER, NEW JERSEY, abril 9, 2021
— Today marks All Systems Go, as Casio
G-SHOCK
pays homage to NASA and the Space Shuttle with its second custom DW5600 timepiece. The commemorative DW5600 honors decades of space exploration and was designed for watch collectors and space enthusiasts in commemoration of the 40th anniversary of the first Space Shuttle launch, the OV-102 STS-1 mission on April 12th, 1981. Pre-sale of this model will officially begin at 7:00:03 AM EST to mark the exact timing of the orbiter's lift off from launch pad 39A.
The new limited-edition timepiece comes in a black and white case and band combination to bring forth the aesthetic of the OV-102 space shuttle. Design elements include a minimalist white dial with red NASA logo, stainless steel case back with an engraved silhouette of the shuttle, an American flag printed on the band loop and black ion-plated buckle. This timepiece arrives in custom packaging with an outer box which reflects STS-1 Mission statistics and an inner tin that depicts the mission's 2-day orbit around the earth.
In addition to the introduction of this limited-edition timepiece, G-SHOCK has unveiled an exclusive video which can be viewed
HERE
.
The G-SHOCK commemorative NASA timepiece utilizes the DW5600's iconic case shape and features, plus a one-of-a-kind EL backlight graphic that displays the shuttle silhouette and the years 1981 – 2021 when illuminated.
In addition to the commemorative design elements, the new model comes equipped with G-SHOCK technology including:
Resistencia al impacto
Resistente al agua a 200 m
Retroiluminación EL con incandescencia posterior
Alerta flash
Cronómetro 1/100 segundos
Multi Function Alarm
Countdown Timer(24H)
12/24 Hr. Formats
The
DW5600NASA21-1
model will retail for $140 and be available for pre-order abril 12, 2021 at
gshock.com
, and for purchase later this month at the G-SHOCK Soho Store and select G-SHOCK retailers..
# # #
Acerca de G-SHOCK
El reloj G-SHOCK de Casio, resistente a golpes, es sinónimo de dureza, se creó a partir del sueño del desarrollador, el señor Ibe, de "crear un reloj que nunca se rompiera". Más de 200 muestras hechas a mano se crearon y se probaron hasta la destrucción, pero finalmente en 1983, el primer G-SHOCK, ahora icónico, llegó a las tiendas de Japón y comenzó a establecerse como "el reloj más resistente de todos los tiempos". Cada reloj reúne los 7 elementos: resistencia a impactos eléctricos, resistencia a gravedad, resistencia a bajas temperaturas, resistencia a vibraciones, resistencia al agua, resistencia a golpes y dureza. El reloj cuenta con innovaciones y tecnologías de Casio para evitar que sufra golpes directos, lo que incluye componentes internos protegidos con uretano y módulos de cronometraje suspendidos en la estructura del reloj. Since its launch, G-SHOCK has continued to evolve, continuing to support on Mr. Ibe's mantra "never, never give up." www.gshock.com.
Acerca de Casio América, Inc.
Casio América, Inc.; Dover, N.J., es la filial en los EE. UU. de Casio Computer Co., Ltd., Tokyo, Japón, uno de los fabricantes líderes en el mundo de soluciones de equipos comerciales y componentes electrónicos para el consumidor. Fundada en 1957, Casio America, Inc. comercializa calculadoras, teclados, dispositivos de presentación móviles, impresoras de etiquetas y títulos de discos, relojes, cajas registradoras y otros productos electrónicos de consumo. Casio has strived to realize its corporate creed of "creativity and contribution" through the introduction of innovative and imaginative products. Para obtener más información, visite www.casio.com.